Robotic Packaging Solutions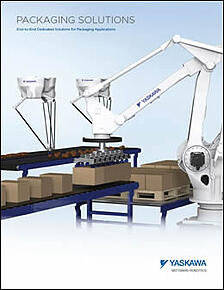 With nearly 300,000 robot arms installed worldwide and the broadest range robots on the market, Yaskawa Motoman is the global leader in robotic automation. Our robotic packaging systems handle a wide variety of food, beverage and consumer products.
Ever-changing products and packaging configurations require companies to manage endless variation in their manufacturing process. Our fast and flexible robots designed specifically around packaging requirements and are accompanied by application enabling software and vision capabilities designed with ease of use in mind help companies meet the demands of today's food, beverage and consumer products marketplace.
Also learn about our robotic palletizing solutions and PLC Controlled robot platform MLX.
Capabilities
Yaskawa Motoman Robotics offers robots dedicated to packaging and specifically designed for primary and secondary packaging application needs in mind.
Primary Packaging
For high speed picking, collating, part-transfer, singulation, sorting and inspection robots range from 2kg payload capacity to 10kg with cycle-times as high as 150 cycles per minute. Our family of pick and place robots includes serial linked articulated arms with 5 or 6 degrees of freedom, delta-style parallel arms with 4 degrees of freedom, and SCARA style 4degree of freedom arm.
Secondary Packaging
Applications in secondary packaging are vast and varied including but not limited to tray packing, tray handling, case packing, case erection and handling, bottle packing, shrink-wrapping, pouch handling and packing and so on. Depending on reach, payload and speed requirements robots used in primary packaging or from host of robots ranging from 5kg to 50kg articulated arm design with 4-7 degrees of freedom could be employed with equal ease.
Software
To aid with ease of use and faster application development Yaskawa Motoman offers suite of software technology such as MotoSight 2D and MotoSight 3D for vision integration, conveyor tracking for tracking and handling parts moving at high speed on multiple lines, and MotoPick software that combines the vision and tracking with built in part scheduling in case you application requires multiple robots synchronizing the operations for tray-packing, singulating and more.
Related Products
Robots
Application Enabling Technologies
In addition to the application enabling technologies, Yaskawa offers value added technologies such as MotoSim Enhanced Graphics (EG) and MotoSim EG VRC (Virtual Robot Controller) for offline programming, validation and testing.