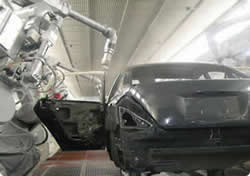 Motoman Robotics offers manufacturers a wide range of robotic painting products and technology. Our flexible, high-performance robots increase finishing quality, consistency and throughput, while dramatically lowering operating costs and decreasing wasted material (reduces environmental impact). Our complete line of paint robots provides versatility and superior performance in standard industrial, automotive and aerospace coating and dispensing applications.
Motoman® EPX-series "Expert Paint" robots are designed to optimize performance in general industrial, Tier 1 and automotive applications. They can be used for primer, base coat, finish coat, clear coat and spray dispensing, using water-based, solvent, powder, glaze and glue/adhesive materials. In addition, they can efficiently coat intricate parts with recesses, curved surfaces and picture frame-like shapes. Using a complex spray path, the robot can spray different areas of the part to various film thicknesses without runs or sags.
Motoman paint robots can be programmed to apply coating materials to different areas of the part to various film thicknesses. They are available with a slim and hollow wrist to minimize interference with the workpiece and allow for utilities routing through the robotic arm. Paint robots have a Factory Mutual (FM) Class 1, Div. 1 intrinsically safe (explosion-proof) rating.
Paint Operations
Painting and coating typically consists of multiple operations before and after the actual coating process. While the operations vary with the application, we have listed several of the most common operations below:
Part Fabrication
Before the part is painted, it is often fabricated in another area of the plant or in a separate plant. Our robots are used for a wide range of fabrication operations, including arc welding, spot welding, forming or bending and machining or grinding.
Part Preparation
Parts nearly always require some preparation. This includes finishing the part in a sanding, buffing or polishing process. Parts often need to be cleaned or etched prior to painting. Our application-specific robots are used extensively in all of these operations.
Part Presentation
Presenting parts to robots varies widely from application to application. For paint operations, parts are typically presented in a batch tote, bin or on a flat conveyor. The parts must then be located and placed onto a rack or an overhead conveyor for presentation to the coating equipment
Our MotoSight™ vision products can help locate the parts so that the robot can pick them up precisely and consistently.
Multi-Step Coating Process
The actual coating process is often a multi-step process. Our robots and systems support the following coating processes:
Single component
Two component
Water base
Electrostatic spray
Powder coat
Wax spray
Undercoating and sound deadener
Adhesives and sealants
Application of the paint or material varies widely. Below is a list of the applicator types supported by our products:
Standard spray atomizers, airless and air-assisted airless
High Volume Low Pressure (HVLP)
Electrostatic
Bell gun (rotary atomizers)
Powder applicators
Swirl guns
Curing
After the coating is applied, it must be cured. This is normally done over time by applying heat or using ultraviolet lamps. The actual curing process is most often done with parts on the same rack or conveyor, just downstream from the coating process.
Part Handling
After the coating is cured, parts can be removed from the rack or conveyor. We have a broad range of material handling robots that can move the parts to the next process.
Next Process
Parts that are coated and cured usually go to the next process which might be kitting, assembly or simply placed into a shipping container. We have a wide range of application-specific robots for the next process.
Vision Inspection
Shipping faulty or defective products can be devastating to a business. Machine vision has a long history in part inspection, ensuring consistent and predictable quality. Whether it's gauging a part, detecting presence of a feature or error proofing, our MotoSight products have all the necessary inspection and data analysis tools for part inspection.
Results
Our robots and automation products can be used in a variety of coating applications resulting in:
More manufacturing flexibility to produce a wider variety products with faster time-to-market
Faster changeover times, increased system uptime and asset utilization
Increased product quality with predictable results with error checking and in-line testing
Increased productivity with shorter payback
Optimized workflow designed around your value-added processes, not your fixed automation
Elimination of expensive and dedicated hard automation
Ability to redeploy asset, extending return on investment