Motoman Material Cutting Robots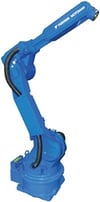 Accurate, high-performance Motoman robots are ideal for precision waterjet, laser, and plasma cutting applications. Selected models feature payloads from 6-50 kg, a wide range of reaches and work envelopes, brakes on all axes, and floor-, wall- and ceiling-mounted configurations.
Motoman robots provide the accuracy and precision control required for use in variety of laser and plasma applications, including:
Laser cutting (Fiber, Nd:YAG and CO2 lasers)
Laser welding
Laser marking
Laser heat treatment
Laser inspection
Plasma cutting
Plasma marking
Oxy-fuel cutting
---
Industrial robot arm models not shown to scale. Click robots for more information.
Powerful, high-speed robot with long/extended reach offers superior performance in arc welding, coating, dispensing, material cutting and...
See Specs