Yaskawa Academy: USA Motoman Training Facilities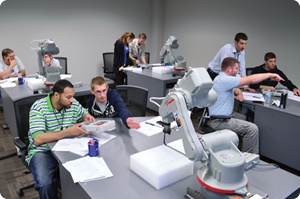 Yaskawa Motoman offers standard and customized training courses given at several locations throughout the U.S.:
Miamisburg, Ohio
Rochester Hills, Michigan
Irvine, California
Motoman Training Courses
To view all standard courses, click on your system's controller. You can then register for a course from the course description page or for assistance call us at 937-847-3307. All courses found under each controller type below are held at Yaskawa Motoman Headquarters in Miamisburg, Ohio unless noted otherwise.
To get started, select a controller...
MLX200 MLX100 DX200 DX100 FS100 NX100 XRC


If you have any questions about training content, please call us at 937-847-3229. We'll be glad to assist you!